Emergency Medicine
About this PGY2 Pharmacy Residency Program
Mission Statement/Program Description
The emergency medicine pharmacy residency program at the University of Utah Health offers a specialized training experience in which residents are fully integrated into multidisciplinary teams that includes physicians, nurses, respiratory therapists, physical therapists, dietary specialists, and social workers. The hospital is a Level I Trauma Center, an accredited center for Stroke, ECMO, PAH, and home of the Intermountain Burn Center. As a major referral site for the Intermountain West, high acuity patients are transferred for specialized care from several surrounding states (Idaho, Wyoming, Nevada, Montana, Colorado, and New Mexico). The goal of the residency is to enhance professionalism and to develop the knowledge and skills needed to provide comprehensive medication management to diverse critically ill patients. Residents will also enhance their leadership skills and practice management in an emergency medicine environment. Upon completion of the residency, residents will be equipped to practice in a variety of acute care settings. Our residency is accredited by ASHP.
Purpose Statement (ASHP)
Our PGY2 pharmacy residency programs build on Doctor of Pharmacy (PharmD) education and PGY1 pharmacy residency training to develop pharmacist practitioners with knowledge, skills, and abilities as defined in the educational competency areas, goals, and objectives for advanced practice areas. Residents who successfully complete our PGY2 residency programs are prepared for advanced patient care or other specialized positions, and board certification in the advanced practice area, if available.
Program Goals/Intended Resident Outcomes
After successful completion of this emergency medicine pharmacy residency program, the resident shall be able to:
Systematically and methodically develop care plans and monitor critically ill patients for efficacy of drug therapy and possible adverse drug events.
Establish a high level of professional responsibility, dedication, skill and maturity to practice in an emergency medicine clinical environment.
Exhibit actions and behaviors of a highly sophisticated emergency medicine pharmacy practitioner and serve as a leader in clinical practice, medication safety, and policy/protocol development.
Clearly, concisely, effectively, and appropriately communicate, both verbally and in writing, with health care professionals, patients and patients' family members.
Attain a level of didactic knowledge that will enable them (after additional study and review) to pass the examination for appropriate Board of Pharmacy Specialty (BPS), e.g. BCEMP when available.
Demonstrate motivation and responsibility for honest self-assessment of skills sets and translate this into self-directed, independent study and learning.
Department of Pharmacy Services
The University of Utah Health is a 636-bed academic medical center located in Salt Lake City, Utah. Serving the Intermountain West, UUH provides services to not only Utah, but the surrounding five states. For nine years in a row, UUH has been ranked in the top 10 of participating medical centers nationwide and has placed first twice. In 2018-2019, we also received the distinction of being recognized as a "Best Regional Hospital" in U.S. News for seven different types of care.
Pharmacy services reach every corner of UUH patient care and safety. With 346 professional pharmacy staff and 462 supporting pharmacy staff, we are able to provide pharmacotherapy care to the vast majority of patient care teams both inpatient and outpatient environments.

Emergency Department
UUH Emergency Department serves over 60,000 patients annually. Along with the region's only Burn Center, we also serve as a Level I trauma center, ED ECMO team, comprehensive stroke center, twenty-four hour STEMI activation, and transplant center. We work alongside physicians, emergency medicine physician residents, advanced clinical practitioners, nurses and emergency services in an academic interdisciplinary team. The department currently has 43 ED beds, 10 observation beds, and will be expanding our psychiatric care area in the coming years.
Patient Care Experiences (Core/Elective/Longitudinal)
In addition to emergency medicine, UUH has five ICU units and over 90 ICU beds.
26 weeks in emergency medicine at UUH

Divided into several rotations with advancing level of responsibilities and objectives
Pre-hospital experience and education (air and ground transport)
EM med safety, information technology, and protocol development
EM policy and management
Precepting learners and integrating into your workflow
Facilitate independent practice in Emergency Medicine Pharmacy

Outside UUH ED learning experiences

Utah Poison Control Center is located on campus and combined with medical writing responsibilities (4 weeks)
Medical ICU (4 weeks)
Intermountain Medical Center ED (4 weeks)

Elective learning experiences, choose up to two of the following:

Cardiovascular ICU
Surgical/Trauma ICU
Burn ICU

Longitudinal rotations

Service commitment
Research/quality improvement

Flipped research project model

Education & Leadership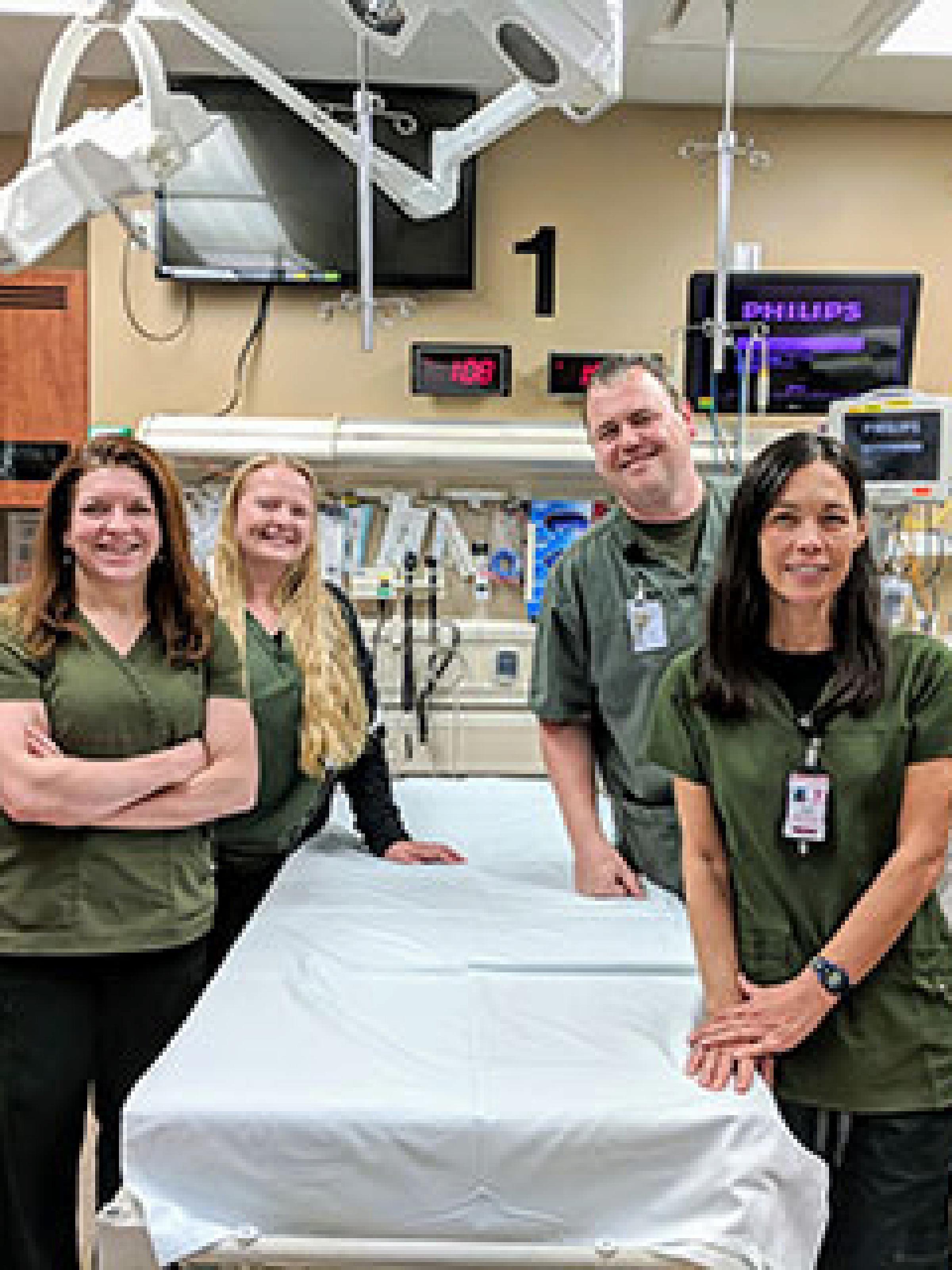 Teaching and Research Opportunities
In addition to daily teaching opportunities on rotation, there will be prospective didactic lectures in the College of Pharmacy, School of Medicine, Emergency Medicine Grand Rounds, Pharmacy Department Grand Rounds, Emergency Department Staff Meetings, Prehospital providers, and other groups. Impromptu teaching sessions are common given pharmacy interns staff the ED nightly, assisting with medication history in addition to RN/EMT/Paramedic shift-change meetings (occur twice daily 07:00 & 19:00). The privilege of formally precepting pharmacy learners (APPE and/or PGY1 residents) will be offered in the later portion of the year, and depending on the PGY2 resident's interests more opportunities may be acquired.
Residency Research/Quality Improvement Project
Residents have the opportunity to complete their required research/quality improvement project within a collaborative, multidisciplinary environment, and as such, residents have the opportunity to meet regularly with other collaborators (e.g., physicians, nurses, etc.) to enhance their overall research design. Residents are also supported by one of the preeminent Drug Information Services in the country, which is readily accessible within our pharmacy department. Residents will demonstrate an understanding of the steps involved in planning and coordinating a project that furthers pharmacy practice, including but not limited to the following:
Project selection and defense to the institution's Resident Advisory Committee
Development of project proposal in IRB format and IRB approval as necessary
Identification and coordination of data collection and analysis
Presentation of research in platform format at Mountain States Conference
Preparation of a manuscript suitable for publication in a peer-reviewed journal
We will utilize the 'flipped' research model, meaning the resident will come into an IRB/RAC approved project and perform data collection the first half of the year. The second half of the year will include implementation of the findings from the project. As the resident is more familiar with the institution's needs, they will pitch their own original research or QI project to IRB and RAC during the second half of the year. In our experience this allows for a cogent and meaningful project, along with the opportunity to be named on two distinct projects as they are implemented and submitted for publication.
Staffing Experience
We are currently assessing the needs of our pharmacy department; staffing will primarily include Emergency Medicine and potentially Intensive Care Unit(s). Additional staffing areas may be included based on departmental needs. Residents are required to staff a portion of observed holidays (one major holiday, two minor). Participation in various community volunteer opportunities is encouraged, but not required.
Qualifications
Candidates must graduate from an ACPE-accredited pharmacy program with a doctor of pharmacy degree (or equivalent combination of education and clinical experience) with a minimum GPA of 3.1 on a 4.0 scale. Residents must have completed an accredited PGY1 pharmacy residency program. Applicants must be eligible for Utah licensure and are expected to obtain licensure as a pharmacist in Utah by September 30th of each program year.
The University of Utah Pharmacy Residency programs do not sponsor visas.
Applications
All residency programs at University of Utah Health use the Pharmacy Online Residency Centralized Application Service (PhORCAS). The deadline for application submission is 23:59 (EST) January 4rd 2024. In the past we have used a rolling deadline, meaning applications will be reviewed as they are submitted to allow time to obtain flights at a lower cost and coordinate with duties of candidates' current position. In short, applicants are incentivized to submit applications as soon as they are complete.
Completed PhORCAS registration
Curriculum vitae *place a brief description of learning experiences in your CV*
Letter of intent
College of pharmacy transcripts
Three recommendations using the PhORCAS standard form
No paper applications will be accepted. Completed applications in PhORCAS are reviewed, and competitive applicants are invited to attend a full-day interview in February (interviews dates TBD; will be virtual). The program participates in the ASHP Resident Matching Program.
Benefits
Benefits package supports health, dental, and life insurance; paid time off, paid holidays, and uniform/scrub stipend. Free public transit pass.